A new & non-touristy destination, Thien Ha Cave (Galaxy Cave)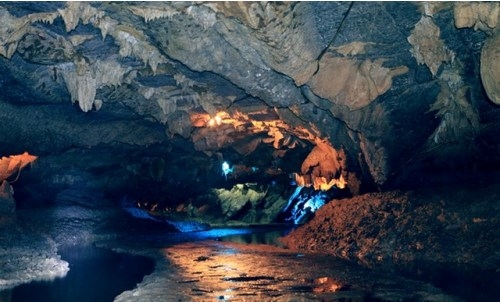 Thien Ha cave is located in Son Ha commune (Nho Quan district), in the heart of General mountain (also called General mountain cavern) at the heigh of 200m. It is 700m long with two area: 200m dry cave an 500m water cave. They are connected by a large corridor.
The dry cave is 2,5 – 3m large, 3 – 6m high with plenty of beautiful stalactites, leading to the southern side of the mountain. The foundation of the cave is 40m large. The natural light from the top, which opens the eyes of people with the stalactites colors. Under the natural hand, there are many shapes and figures of stalactites which inspire the curiosity of the visitors.
Visiting to the water grotto, travelers would float on the underneath river which is named Galaxy which appears with curling line under thousands of sparkling stalactites which suddenly on the right above curl of the cave ceiling. There are also many stalactites under various shapes, which need to be named. In the peaceful place, visitors would feel the sound of the oar striking clearly, the sound of water drop and thousands of bats inside the grotto.